Macon Coca-Cola Bottling Co. values the local communities in the surrounding areas. We are heavily involved with the schools and colleges in our territory, as well as with local businesses, churches, and organizations. We sponsor many local events and do our best to maintain a loyal presence in our communities. It is our desire to have a positive impact in Macon and the surrounding area.
Here's the latest community update:
18 Apr 2014 | No Comments | posted by MaconCC | in Schools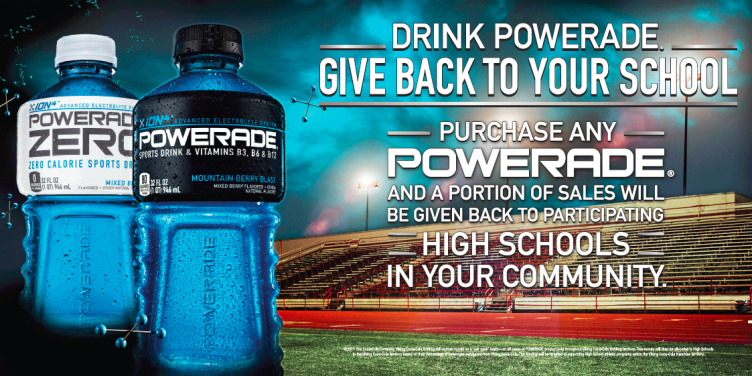 Macon Coca-Cola is committed to education and physical activity among youth. Schools are fighting to maintain high standards in these areas while also dealing with reduced budgets. Macon Coca-Cola has started a brand new program to provide resources to local schools to help close the funding gap.
How it Works
Macon Coca-Cola will develop a fund to be used in support of high schools within the Macon Coca-Cola territory
This fund will be developed on a "per cases" basis on all cases of Powerade product sold throughout Macon Coca-Cola territory, including 32 oz. bottles, 20 oz. bottles, 12 oz. bottles, and 3 oz. drops
At different times throughout the year, Macon Coca-Cola will make donations to our local schools from this fund
Benefit to Schools
Your school can receive a share of this fund
Your school can help increase this fund internally through vending machines, concession stands, booster clubs, refreshment for sports teams, etc.
You can help increase this fund individually by purchasing Powerade products from your local stores
The more Powerade you purchase, the more funding your school can receive
Current Schools Participating
Bevier C-IV
La Plata R-II
Macon County R-I
Moberly School District
Northeast Randolph County R-IV
Shelby County R-IV
Westran School R-I
Powerade for Schools was developed to help local schools with funding and also to support education and physical activity. You can help your school today just by purchasing a Powerade.